Welkom bij De Handwerk Boetiek
"Wat een snoepwinkel is dit", is de meest gehoorde uitspraak van onze klanten. En wij zijn heel blij dat we al meer dan 20 jaar klanten vanuit heel Nederland en de rest van de wereld kunnen verwelkomen in onze Handwerk Boetiek. We zijn goed bereikbaar met het openbaar vervoer en hebben daarnaast een uitgebreide webshop. Kom gezellig langs om inspiratie op te doen of om je nieuwste project uit te zoeken. Wij helpen je graag.
Unieke en zeer uitgebreide collectie borduurmaterialen
We hebben een unieke en zeer uitgebreide collectie borduurmaterialen. Bij ons vind je o.a.:
borduurpatronen van o.a. Blackbird Designs, Kathy Barrick, Hello from Liz Mathews, The Prairie Schooler, Stacy Nash Primitives, Carole Manning, Madame Chantilly en Historische Stickmuster,

borduurgarens als DMC, Venus, Weeks Dye Works, Gentle Art Sampler Threads, Classic Colorworks, Soie d'Alger, Gloriana en Waterlilies en Needlepoint Inc,

borduurstoffen, zowel linnen, evenweave, jobelan en aida,

boeken en

accessoires als loepen, daglichtlampen, borduurringen en uiteraard naalden.
Zo is er voor iedere borduurster een nieuw project te vinden. Laat je inspireren door een van onze vele modellen, abonneer je op ons gratis nieuwsmagazine of doe mee aan een van onze workshops.
20 Jaar ervaring – Uitgebreid assortiment
Deskundig advies – Gratis nieuwsmagazine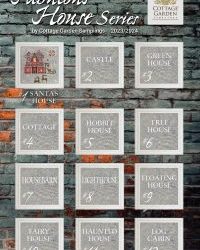 Vinniey van Cottage Garden Samplings heeft het weer gedaan, een fantastische nieuwe serie bedacht voor 2024! Deze keer staan huizen centraal in de patronen. Je snapt wel, dat ik helemaal fan ben. Het eerste deel is al bekend, een geweldig huis voor de kerstman. In het...
Lees meer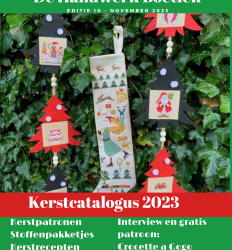 English text below Hij ligt weer voor je klaar, de kerstcatalogus van 2023, meer dan 70 pagina's vol kerstinspiratie en -plezier. Dit jaar hebben we interviews met Crocette a Gogo, LadyDot Creates en October House Fiber Arts. Zoals gebruikelijk vind je naast de...
Lees meer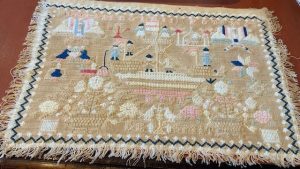 Lammegien Pot merklap/ The Lammegien Pot sampler (English text below the Dutch text) In mijn laatste nieuwsbrieffilmje heb je de merklap Lammegien Pot kunnen zien. Ik ben een beetje verliefd op deze lap. Allereerst omdat het een Drentse merklap is, en dit is de eerste...
Lees meer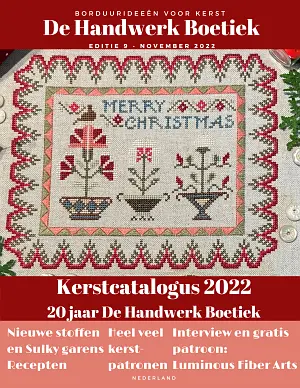 We versturen 3-4 x per jaar een nieuwstijdschrift met het laatste nieuws uit de winkel, borduurtips, boekbesprekingen, speciale aanbiedingen, interviews met ontwerpsters, gratis patroontjes en nog veel meer.
En je ontvangt om de week op zaterdagochtend een gezellige nieuwsbrief vol nieuwe patronen, aanbiedingen, gratis patroontjes, een update over mijn eigen borduurwerkjes én een foto van Poekie.
We send out a newsmagazine 4-6 x a year with the latest news from the shop, tips, special offers, interviews with designers, free graphs and more.
You can sign up by entering your email in the first box, called " email" and your first name in the box "naam". Then hit the button that says "Aanmelden". You will receive a confirmation email, in which you get a link, you need to click on, in order to confirm your subscription. Once you have done that, you get another email with the link to the current issue of the newsmagazine and past issues.